Located in the core of the the historic city centre. This is the baroque mansion that inspired our name and where we created our culinary concept; as an integral part of BUAP University Interactive Art Museum, in the way of a living exhibition of the culinary art and the gastronomic tradition of Puebla.
Our facilities and services include:
General and private fine dining rooms
Inside patio, ideal for social, corporate events, offcial acts, press conferences, marketing introductions, artists and musicians presentations, proffesional groups meetings and corporate celebratrions, just to mention examples.
Saturday and Sunday Breakfast buffet
Private dinners for groups, closed door.
Catering and event planning
Coffee break
OPEN:
Monday thru Friday 8:00 to 19:00 Saturday: 8:00 to 22:00. Monday 8:00 to 18:00
2 Norte No. 2. MUSEO BUAP. Centro Histórico. Puebla Pue. 72000. Phone 52 + (222) 242 48 25
SEND US AN EMAIL
Restaurante Casa de los Muñecos Centro Histórico
international awards and certifications: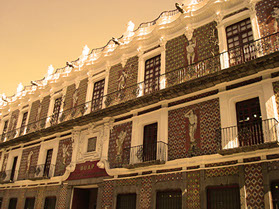 © 2014 RESTAURANTE CASA DE LOS MUÑECOS S.A. DE C.V.